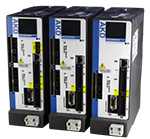 Kollmorgen's AKD2G drive is a leading edge drive product that provides many state of the art features. These release notes for the AKD2G firmware (the software that runs on the AKD2G drive) describe the significant features and changes introduced with each release.
WorkBench 2.10.4.7868 or later is required to use this AKD2G firmware release. In general, Kollmorgen recommends that you update to the latest available WorkBench when you install new AKD2G firmware.
Updating to this firmware version is incompatible with some versions prior to 02-01-02-002. If the update fails and the error message "Invalid image type (bad #IT value)" is reported, update to 02-01-02-002 before updating to this version.